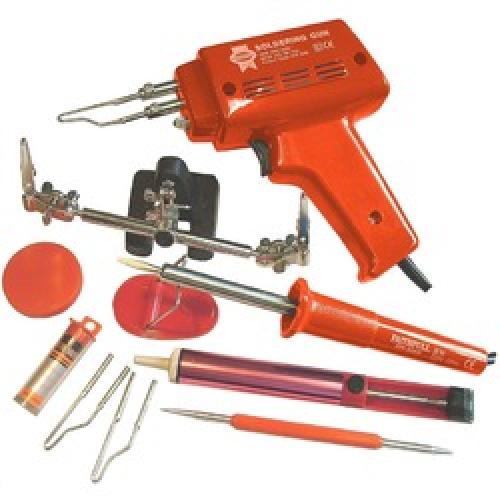 SOLDERING GUN KIT FPPSGKP FAITHFULL
Product Code: 35891
The Faithfull kit range of soldering irons are lightweight with heat resistant handles and come in 240 Volt (100 Watt) versions.
This Faithfull SGKP is a top of the range kit and is suitable for soft soldering metal alloys, brass and copper. The working temperature of 750 degrees is reached quickly so you get a good soldered joint on any work piece. The SGKP gun features a safety working / indicator light so you can see your work piece and you also know the iron is on.

Complete with:
1 x Instant heat soldering gun, 100 Watt 240 Volt.
1 x Soldering iron 30 Watt 240 Volt.
Built in Safety Working / Indicator Light.
1 x Mini grip for holding small work with magnifying glass.
1 x De-soldering Tool.
2 x Spare soldering tip.
1 x Soldering wire and resin flux.
1 x Needle tip and scraper tool.
Fitted BS approved 3 pin plug and cable.
Back to Listings